---
In-line strainer series 
In-line Strainer Series, 20% Glass filled polypropylene body with EPDM gasket and Clear bowl.
A selection of 20, 50 or 80 mesh Stainless Steel Screen prevents from dirt and other industrial water debris to damage Probes, solenoid valves, re-circulation pumps as well as protecting the entire piping assembly.
Applications: Pool and Spa, Cooling towers, and industrial water applications.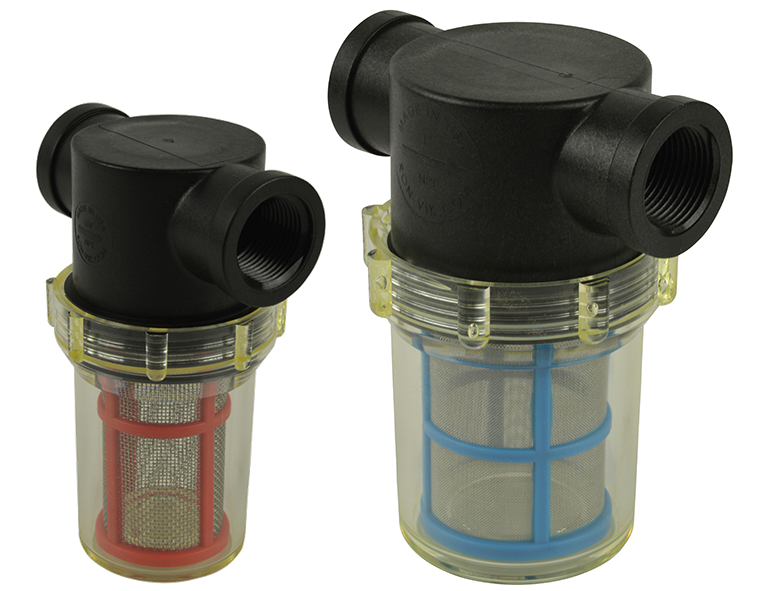 Specifications

Type: In-line Poly strainer series
Connection Type:
Regular size female 1/2 and 3/4″ / Large size: female 1″
Top Material: Black Poly
Bowl Material: Clear nylon
*Black poly bowl available upon request
Gasket Material: EPDM (red)
*Viton (green) O-ring available upon request
Mesh Screen: 20, 50, 80 Mesh (915, 304, 178 micron)
*100 mesh (80 micron) and 250 mesh (40 micron) available upon request
Filter Area: Regular size 17.33 (Sq In.) / Large size 29.73 (Sq In.)
Product Weight: Regular size 136 gram / Large size 408 gram