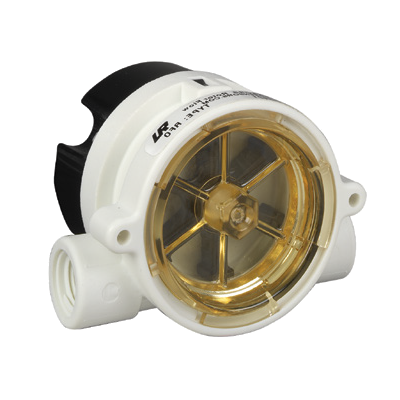 Paddle Wheel Flow Switch
Product Details
Specifications
Dimensions
Paddle Wheel Safety Flow Switch (PWFS)
Paddle wheel safety flow switch designed to prevent accidental feeding of chemicals on bypass line. Visual flow indication combining high visibility rotors with solid-state electronics that are packaged into compact, panel mounting housings. Provide accurate flow rate output with integral visual confirmation.
Typical Applications
Water Purification/Dispensing Systems
Chemical Metering Equipment
Lasers and Welders
Water Injection Systems
Semiconductor Processing Equipment
Chillers and Heat Exchangers
Specifications
Wetted Materials Body : Brass, 316 Stainless Steel or Polypropylene (Hydrolytically Stable, Glass Reinforced)
Rotor Pin : Ceramic
Rotor : PPS Composite, Black
Lens : Polysulfone
O-Ring : Viton® (Alloy Bodies); Buna N (Polypropylene Body)
Low Flow Adaptor : Glass Reinforced Polypropylene
Operating Pressure, Maximum : Polypropylene Body : 100 PSIG (6.9 bar) @ 70°F (21°C), 40 PSI (2.8 bar) Max. @ 180°F (82°C).
Optional SS Face Plate 500 PSI Brass or Stainless Steel Body 200 PSIG (13.8 bar) @ 70°F (21°C), 100 PSI (6.9 bar) Max. @ 212°F (100°C)
Operating Temperature, Brass or Stainless Steel Body : -20°F to 212°F (-29°C to 100°C). Polypropylene Body -20°F to 180°F (-29°C to 82°C)
Electronics : 150°F (65°C) Ambient
Viscosity, Maximum : 200 SSU
Input Power : 4.5 VDC to 24 VDC
Output Signal : 4.5 VDC to 24 VDC Pulse. (Sourcing)
Pulse Rate Dependent on Flow Rate, Port Size and Range.
Current Consumption : 8 mA, No Load
Current Source Output, Max. : 70 mA
Frequency Output Range : 15 Hz (Low Flow) to 225 Hz (High Flow)
Accuracy See Table Below
Electrical Termination : 22 AWG PVC-Jacketed, 24˝ Cable. Color Coded:
Red = +VDC; Black = Ground; White = Signal Output
Notes: For higher pressure/temperature ratings, stainless face plates are available upon request.
Polypropylene Bodies
Materials: polypropylene
Maximum Pressure: 100 PSI
Temperature:  -21°C – 82°C