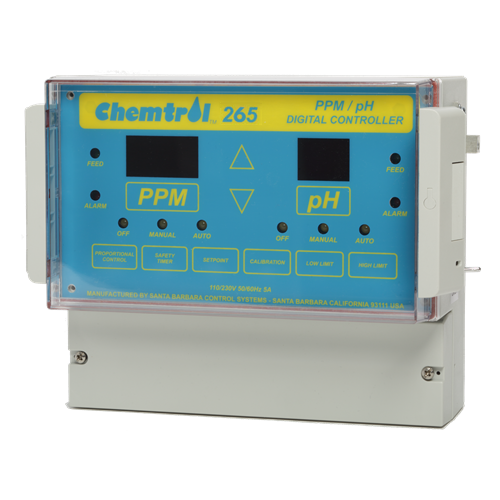 CH265 pH / Free Chlorine Digital Controller
Product Details
Specifications
Installation
Operation
CHLORINE ANALYSIS MADE SIMPLE
CHEMTROL® CH265 PPM/pH Digital Controller introduces the new PPM Sensor for Free Chlorine control. A microprocessor-based digital controller, designed to maintain both free chlorine (PPM) and water pH in Municipal Water, Well Water, Waste water and Industrial applications.
No Reagents
No Maintenance
No Pressure Regulator.
Free CL Range 0.00 to 10.0 PPM
pH Range 0.0 – 14.0
Programmable 4-20 mA output to PID and/or Chart Recorder
Programmable 4-20 mA Output Control with Adjustable Setpoint
Dry Contact Remote Alarm
---
STANDARD FEATURES
Easy to install
Simple to use
All Control Functions on Front Panel
Separate Adjustable Setpoints
Separate Adjustable Alarms
Acid/Base Selector
Proportional Feed with Adjustable Bandwidth
Separate Adjustable Overfeed Safety Timers
Rain and Splash Proof Cabinet
5-year Electronics Warranty
---
PRECISE AND RELIABLE PPM READING
The new Free Chlorine Sensor is a solid state sensor with a selective membrane that provides direct readings of Free Chlorine in water at concentrations ranging from 0.1 to 10 ppm (parts per million) or mg/l (milligrams per litter). These are true readings of Free Chlorine corresponding to the DPD #1 test.
A significant advantage of this PPM sensor is that it's not affected by cyanuric acid (CYA) stabilizer and/or oxidizers, thereby assuring constant Free Chlorine levels at all times. Unlike other chlorine sensors on the market, this new sensor is easy to install and maintain and gives the operator precise and reliable control of Free Chlorine under the most difficult conditions. The PPM sensor is covered by a full 2-year warranty.
CH265 SPECIFICATIONS
FREE CHLORINE CONTROL
Adjustable from 0.1 to 10.0 ppm (mg/l) or 0.01 to 3.00 (specify)
pH CONTROL
Adjustable from 0.0 to 14.0
FREE CHLORINE SENSOR
Solid state electrode with 3 m cable
pH SENSOR
Glass electrode with 3 m cable
READOUTS
PPM (3 digits) and pH (2 digits) LEDs
FEED MODES
Manual, automatic, proportional
ADJUSTMENTS
Set-point, calibration, limits, feed rate
INDICATORS
LEDs for feed mode, feed status, alarms
4-20 mA Output
Out-of-range limits
CABINET
Polystyrene 22 x 18 x 10 cm
ELECTRICAL
230V or 24 VAC (specify)
PLUMBING
Flow Cell Assembly with Y-Strainer
WARRANTY
5 years on electronic module
1 year on all other parts
SHIPPING
30 x 30 x 30 cm carton, 3 kg without pumps
6 kg with 2 chemical feed pumps
CH265 INSTALLATION
Unlike conventional amperometric or colorimetric sensors, the new PPM sensor is easy to install and maintain. It does not require a pressurized cell for the sensor and/or expensive and expendable chemical reagents. And best of all, it's maintenance free.
Installation of the CHEMTROL® 265: For best operation, it is recommended to install the sensors on a bypass line with a Flow Cell Assembly (FCA) as shown on the schematic.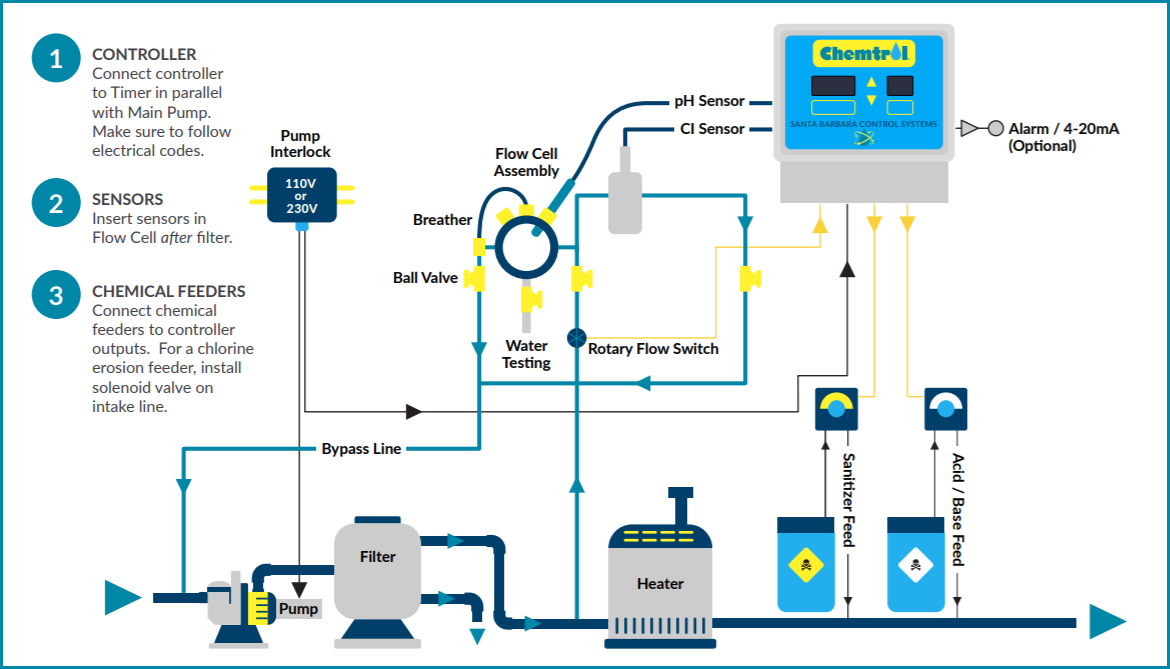 ---
FLOW CELL ASSEMBLY
The Flow Cell Assembly (FCA) includes a see-through cell with a plastic cover that regulates the flow of water and allows the operator to see the tip of the sensors.
The cell includes the following:
Two 1/2″ FPT fittings for the connections to the bypass line
Two 1/2″ FPT fittings for mounting the sensors
A spigot for water testing
A bleed line to prevent air lock in the cell
In addition it is also recommended to install a safety switch on the bypass line to prevent accidental feeding of chemicals.
CH265 OPERATION
The CHEMTROL® 265 Free Chlorine Analyzer automatically maintains both Free Chlorine concentration and pH of the water.
All operating functions are clearly labelled and accessible from the front panel, with safety and easy-reset features not found on other controllers.
The Free Chlorine concentration can be adjusted from 0.0 to 10 ppm (or mg/l) based on local Health Department regulations for prevention of germs and bacteria (or from 0.01 to 3.00 for low chlorine level applications).
The pH control level can be adjusted from 6.0 to 8.0. Below 6.0, the water is too acidic and causes corrosion. Above 8.0, it is too alkaline and causes scaling, stains and reduced sanitizer efficiency.