Pyxis Ultrasonic Level Transmitter
Data Sheet
Features
Specifications
Video
LS- 200 Ultrasonic Level Transmitter
The Pyxis LS-200 is a general purpose and innovative ultrasonic liquid level sensor that replaces float, conductance and pressure sensors that fail due to contact with dirty, sticky and scaling liquids in small, medium and large capacity tanks.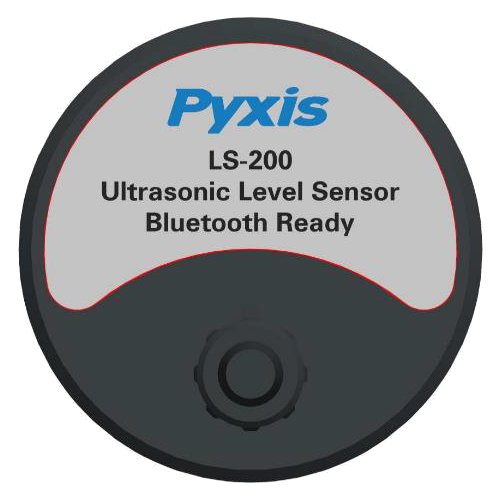 These liquid level sensors can be used in either open or enclosed tanks. The sensor provides continuous level measurement up to 2.2m with a 4-20 mA signal output, RS485 and Bluetooth digital output, and can be configured via Pyxis free uPyxis® APP for both smartphone or desktop.
The LS-200 sensor can be powered by a 24VDC external power source via the 10' output and power supply waterproof cable provided.
This non-contact liquid level sensor is well suited for corrosive liquids chemical or process tank applications.
LS-200 Ultrasonic Level Transmitter
Dual embedded transmitters in sensor body for selection – 4-20mA or RS-485 supporting MODBUS
Bluetooth® Version 4.1 for measurement result output and configuration (32+ ft Line of Site)
Single power supply: 24VDC external power and smart switch capability
Easy and quick configuration via uPyxis® APP on mobile phones or PC
PVDF transducer and 6P polycarbonate enclosure for corrosive liquids
Automatic temperature compensation for accurate measurement despite condensation
---
Typical Applications
The Pyxis LS-200 Ultrasonic level sensor is ideal for use as a water level sensor, water & process chemical tank level sensor, liquid level transmitter, or other applications requiring accurate and continuous liquid level control or liquid level measurement.
Specifications 
Device 
LS-200 
Range
0.1 to 2.2 M
Accuracy
±0.15% of range
Resolution
0.02 inch (0.5mm)
Dead band
4 inches (10mm)
Configuration
uPyxis® APP in mobile phone
Power supply
24VDC, 2.0W Max
Signal output
Bluetooth® Version 4.1 – 32 Ft line of site
4-20mA, RS-485 MODBUS
Measurement Interval
Continuously (5 readings per second)
3 min, 10 min, 60 min, configurable
Enclosure Rating
IP67
Process mount
1'' NPT
Storage temperature
(-20 °C – 70° C)
Operational temperature
(-10° C – 50° C)
Pressure
14 – 30 PSI (0.1 – 0.2 MPa)
Enclosure material
Polycarbonate
Transducer material
PVDF
Dimension
101mm long, 75mm diameter
Weight
145g
Regulation
CE