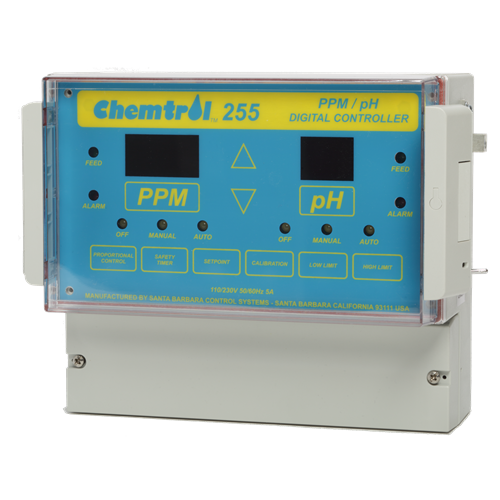 CH255 PPM/pH Digital Controller
Product Details
Specifications
Installation
Operation
SANITIZER and pH Control Made Easy

CHEMTROL® 255 PPM/pH Digital Controller introduces the new Sensor for Free Chlorine control. A microprocessor-based digital controller, designed to maintain both free chlorine (PPM) and water pH in Residential Pools and Spas, Commercial Pools and Spas, Hotels, Motels, Health Clubs, Apartments Buildings, Condo associations and Industrial Water Treatment.
Simplicity of installation, Compatible with all common sanitizers and oxidizers, ease of use and long-term reliability.
---
STANDARD FEATURES
Easy to install, Simple to use
All Control Functions on Front Panel
Free Chlorine control
pH control
Separate Adjustable Setpoints
Separate Adjustable Alarms
Out-of-range alarms
Acid/Base Selector
Proportional Feed with Adjustable Bandwidth
Separate Adjustable Overfeed Safety Timers
Waterproof Cabinet with Clear Window Cover
5-year Electronics Warranty
---
PRECISE AND RELIABLE PPM READING
The new Free Chlorine Sensor is a solid state sensor with a selective membrane that provides direct readings of Free Chlorine in water at concentrations ranging from 0.1 to 10 ppm (parts per million) or mg/l (milligrams per liter). These are true readings of Free Chlorine corresponding to the DPD #1 test.
A significant advantage of this PPM sensor is that it's not affected by cyanuric acid (CYA) stabilizer and/or oxidizers, thereby assuring constant Free Chlorine levels at all times. Unlike other chlorine sensors https://sbcontrol.com/probes-selection/ppm-sensors/on the market, this new sensor is easy to install and maintain and gives the operator precise and reliable control of Free Chlorine under the most difficult conditions. The PPM sensor is covered by a full 2-year warranty.
CH255 SPECIFICATIONS
| | |
| --- | --- |
| free CHLORINE CONTROL | Adjustable from 0.1 to 10.0 ppm (mg/l) or 0.01 to 2.0 (specify). |
| pH CONTROL | Adjustable from 0.0 to 14.0 |
| FREE CHLORINE SENSOR | Solid state electrode with 3 m cable |
| pH SENSOR | Glass electrode with 3 m cable |
| READOUTS | PPM (3 digits) and pH (2 digits) LEDs |
| FEED MODES | Manual, automatic, proportional |
| ADJUSTMENTS | Set-point, calibration, limits, feed rate |
| INDICATORS | LEDs for feed mode, feed status, alarms |
| SAFETY | Audio, visual and remote alarms Out-of-range limits and overfeed safety timers |
| CABINET | Polystyrene 22 x 18 x 10 cm |
| ELECTRICAL | 230V or 24 VAC (specify) |
| PLUMBING | PVC tees for 1-1/2″ or 2″ line |
| WARRANTY | 5 years on electronic module 1 year on all other parts |
| SHIPPING | 30 x 30 x 30 cm carton, 3 kg without pumps 6 kg with 2 chemical feed pumps |
CH255 INSTALLATION
Unlike conventional amperometric or colorimetric sensors, the PPM sensor is easy to install and operate. It does not require a special pressure flow cell and/or expensive and expendable chemical reagents. And best of all, it's maintenance free.
Installation of the CHEMTROL® 255: For best operation, it is recommended to install the sensors on a bypass line with a Flow Cell Assembly (FCA) as shown on the schematic.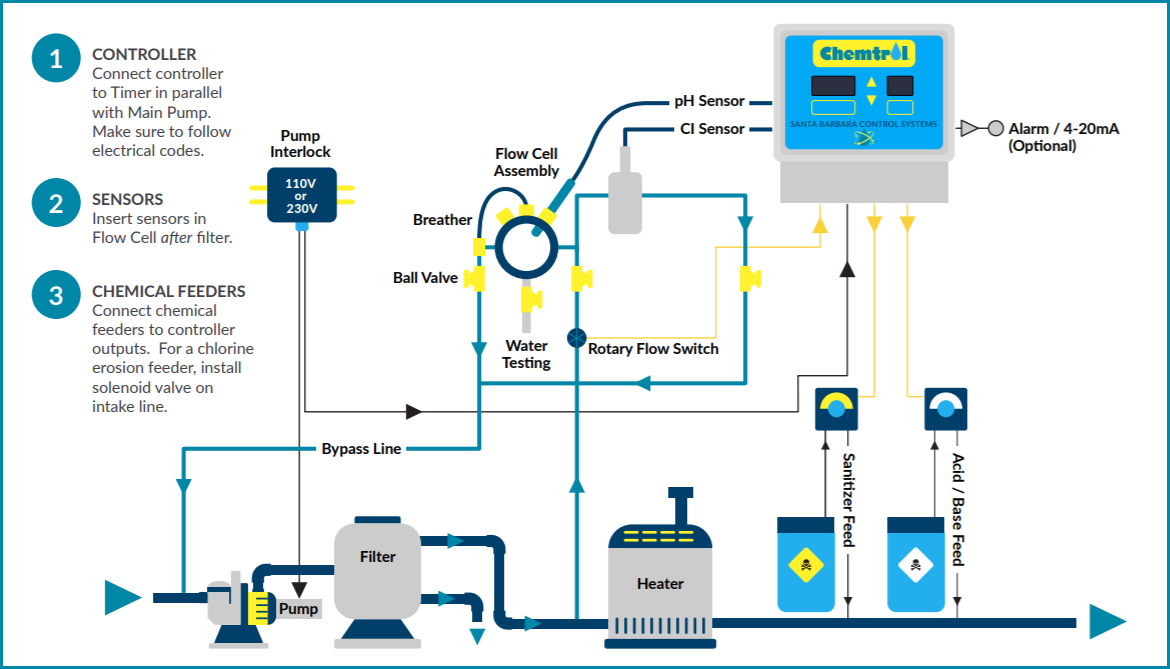 ---
Flow Cell Assembly
The Flow Cell Assembly (FCA) includes a see-through cell with a plastic cover that regulates the flow of water and allows the operator to see the tip of the sensors.
The cell includes the following:
two 1/2″ FPT fittings for the connections to the bypass line
two 1/2″ FPT fittings for mounting the sensors
a spigot for water testing
a bleed line to prevent air lock in the cell
In addition it is also recommended to install a safety flow switch on the bypass line to prevent accidental feeding of chemicals.
CH255 OPERATION
The CHEMTROL® 255 PPM/pH Digital Controller automatically maintains both sanitizer PPM and water pH in pools and spas.
All operating functions are clearly labeled and accessible from the front panel, with many safety and easy-reset features not found on other controllers: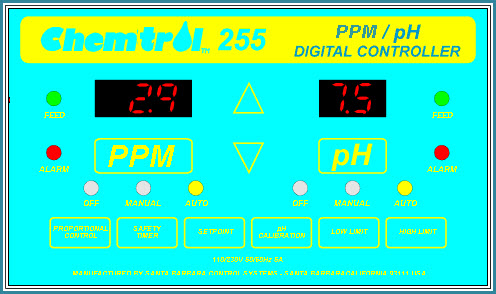 pH calibration from 7 to 8
PPM setpoint from 0.1 to 10.0 ppm or mg/l (or 0.01 to 2.0 optional)
pH setpoint from 7 to 8
Chlorine and pH feed modes: off, manual, automatic
PPM and pH proportional control bandwidth from 0 to 100% of the setpoint
Chlorine high and low alarms from 400 to 900 mV
pH high and low alarms from 4 to 10
Chlorine overfeed safety timer from 0 to 999 minutes
pH overfeed safety timer from 0 to 99 minutes
To select a function, simply press PPM or pH and then the desired function.  The display shows the current function value.  Use the UP or DOWN arrows to adjust to the desired value.
---
CONTROL SETPOINTS
The standard factory-set Chlorine control level is 1.0 ppm or mg/l, based on WORLD HEALTH ORGANIZATION (WHO) values for prevention of germs and bacteria. A range of 0.01 to 2.0 is also available for low chlorine level applications.
The standard factory-set pH control level is 7.5. Below 7.4, the water causes eye irritation and corrosion of equipment. Above 7.6, it also causes eye irritation plus water cloudiness, scaling, stains and reduced sanitizer efficiency.
To change the control levels, the operator presses PPM or pH and then SETPOINT. Use the UP or DOWN arrows to adjust the PPM and pH setpoints. To save the new setpoint value and exit, press SETPOINT again.
The controller then automatically activates the chemical feeders for sanitizer and acid (or soda) feed, as required to maintain the set PPM and pH levels – regardless of fluctuations in bather load, contamination and weather.  Like a thermostat maintaining a constant temperature, it prevents overfeeding or underfeeding, both of which are detrimental to good water quality.
---
ALARMS
When there is an alarm condition, the corresponding display flashes the alarm value:
PPM out-of-range
pH out-of-range
PPM overfeed
pH overfeed
The display stops flashing when the condition is corrected. To reset the overfeed timers, turn the feed mode to off and then back to Manual or Auto.
---
RESET
The ideal values are set as default values.  They can be adjusted by the operator at any time.  To reset all factory default values, press PPM and pH for 5 seconds.