PC2100 Programmable Controller
Product Details
Technical Specifications
Installation
Operation
Web Access
A Fully Programmable Controller
The CHEMTROL® PC2100 is a simple and reliable programmable controllers that features automatic maintenance of water chemistry, pH and ORP (Optional: Free Chlorine sensor with direct reading in PPM or mg/l) with acid or base feed, programmable super-chlorination and chemicals savings cycles and display of the Langelier Saturation Index. The Main Screen on the 8-line display enables the operator to supervise all process functions at a glance and to quickly respond to any changing condition.
The CHEMTROL® PC2100 controller operates like a computer with multi-line screen displays and direct access to all menus and submenus. The front panel keypad is used to move up and down each menu and enter or exit the submenus. All operating functions can be easily modified from the keypad, including sensor calibration, control setpoints, alarm levels and the programs for superchlorination and chemical savings.
---
STANDARD FEATURES
Chemical Automation with ORP and pH control
ORP CONTROL of sanitizer and/or oxidizer activity
pH CONTROL with choice of acid or base feed
Flow Cell Assembly with safety flow switch
Sensor cleaning with programmable acid wash control
Remote alarm
LANGELIER SATURATION INDEX for water balance
Programmable SHOCK TREATMENT and CHEMICAL SAVINGS cycles
Large 8-line LCD DISPLAY for easy operation
AUTOMATIC DATA LOGGING for up to 999 tests
USB and Micro SD ports for easy program updates and data logging
---
OPTIONS
PPM CONTROL – Free Chlorine sensor with direct reading in PPM or mg/l
TDS/Conductivity control with sensor for dump valve or salt chlorine generator
Temperature display and Heater control with temperature sensor
CHEMTROL® web-server communication – remote monitoring and control. True duplex remote operation with Ethernet cable.
Modbus-protocol communication for Building Management System (BMS)
PC2100 TECHNICAL SPECIFICATIONS
ORP CONTROL – 200-999 mV, Set-point for oxidizer or reducer, Programmable shock treatment and chemical saving cycles
pH CONTROL – 0-14, Set-point for acid or base feed
CONDUCTIVITY MONITORING – 0-20,000 μS/cm or ppm, Conversion Factor for TDS
TEMPERATURE READOUT – from -18 to 60 C
LANGELIER INDEX – Calculated from pH, Temp, Total Alkalinity and Calcium Hardness. Water Balance display
SENSOR CALIBRATION  – 1, 2 or 3 points
CONTROL MODES – Off, Manual, Automatic, Timer, ON/OFF or Proportional Feed
DATA LOGGING – On-board memory for up to 999 tests, optional USB port for data-log download
ALARMS – High / Low out-of-range, Run time and overfeed, Patented Probe Alert Safeguard, Visual, audio and external alarms
MECHANICAL – 34 x 29 x 17 cm, Rain and splatter proof NEMA type 3R Cabinet
ELECTRICAL – 10 A 110/230 V with selector switch, All output and alarm relays 5 A
WARRANTY – 5-year on electronics module, 1-year on all other parts
SHIPPING – 48 X 48 X 281 cm carton, 9.5 kg
PC2100 INSTALLATION
We want to make the installation of CHEMTROL® controllers as simple as possible. This is why we have everything mounted onto a customized assembly manifold ready for connection. This assures proper water sampling around the sensors and makes for a hassle free installation that minimizes the integration work needed to get your water treatment system up and running.
---
Bypass line assembly, PC2100 programmable controller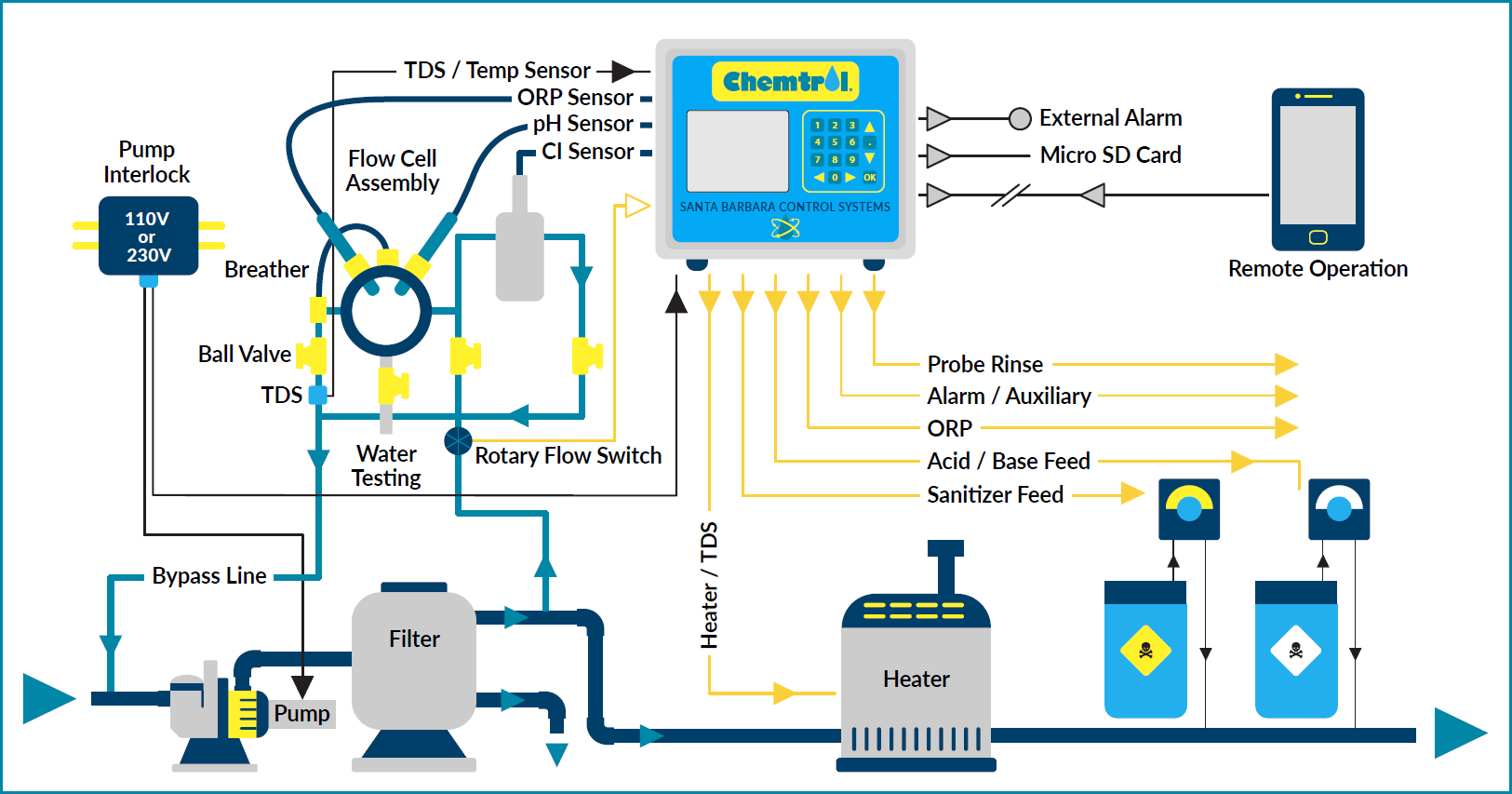 PC2100 OPERATION
The 8-line Display Screen of the CHEMTROL® PC2100 Programmable Controller gives direct access to all the menus and sub-menus. Navigation between the menus and inside the menus is easily accomplished with the four directional arrow keys. Numerical settings can be changed with the ten-key keypad.
The ORP MENU includes selection of the control mode (Off, Manual, Auto or Timer), sensor calibration (1, 2 or 3 points), set-point level, high and low alarms, shocking and chemical saver programs. It also displays the run time for the current feed event and cumulative run time. Shock treatment can be initiated manually or under programmable weekly or multi-weekly schedules.
The SANITIZER MENU is used to control the chlorine or bromine level in terms of sanitizer concentration (parts per million or milligrams/litre), obtained from the optional PPM sensor. The sanitizer concentration readings can be calibrated to account for the effect of cyanuric acid stabilization. Superchlorination can be initiated manually or under programmable weekly or multi-weekly schedules.
The pH MENU is used in the same way to select the pH control parameters using either acid or base feed or both. It also includes an Acid Wash program for periodic injection of an acid rinse solution to clean the heads of the sensors.
The TDS MENU is used to set automatic dumping (bleeding) of water when the dissolved solid concentrations becomes too high, selecting either a Conductivity or a TDS control setpoint to activate the dump valve. Refilling of water can be done simultaneously with a level control activated valve.
The Langelier Index calculates the saturation condition from the pH and Temperature sensor inputs and from manual data entry for Alkalinity and Calcium Hardness. The water saturation condition is constantly displayed on the Main Screen as either "OK", "Scaling" or "Corrosive" using standard Langelier Index limits. If a scaling or corrosive condition develops, it is immediately indicated with a flashing display on the Main Screen. "What if" analysis can be run at any time by manually entering different values.
---
Remote Monitoring & Control
Our range of programmable controllers all have remote access capability, so you can control and monitor your facility 24/7.
With the remote operation function any number of facilities can be controlled and monitored from your computer, or via our mobile App. From a computer simply login directly via your browser using our web-server where the controller display is mirrored on your computer.
True duplex operation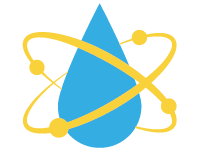 that allows real-time control and troubleshooting of all operating functions, including status reports, trend graphs and automatic alerts by email or text messages. You can also access and control your controller via our dedicated app, available for Android and Apple devices.
In terms of connecting your controller, this can be achieved via a wired Ethernet cable, WIFI signal, or by using a wireless connection with a compatible 4G or 5G router.
Find out more: web-access options.