Chemical Saver Program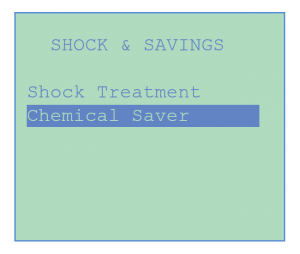 The Chemical Saver program is used to lower the oxidizer or sanitizer level when there is little use, such as at night or on weekends.
Chlorination should be prevented completely whenever a pool cover is in place. It is also recommended to stop sanitizer feed for pools where there is insufficient mixing of water at night – due to the lack of water mixing by swimmers or convection currents. This can lead to stratification of the chemicals in the water and eventual over-chlorination.
The Chemical Saver program may be set to MANUAL, OFF or AUTO. If set MANUAL, it will start immediately and will continue until changed back to OFF or placed in AUTO.
If AUTO is selected, the Weekly Scheduling Sub-menu is displayed. All times are expressed in standard 24:00 time format. The operator can select any start and end time for the chemical saver program for any day of the week.