Heater Menu
The HEATER MENU is used to control the temperature of the water, using degrees Celsius or Fahrenheit.
The Energy Saver program can be set to automatically lower the temperature of the water when not in use.
The "Fireman" protection feature allows for cooldown of the heater before pump shutdown.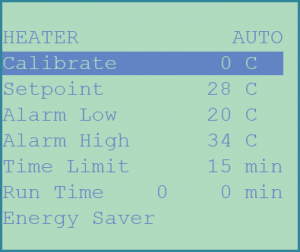 The menu selections include:
Feed mode:
– Off
– Manual Feed
– Auto Feed in ON/OFF mode with adjustable deadband
– Timer with adjustable ON and OFF cycles
Sensor calibration in degrees Fahrenheit or Celsius (1, 2 or 3 points)
Control Set-point
Low Alarm
High alarm
Time Limit with adjustable safety shutoff
Run Time displays (event and cumulative)
Energy Saver program.
---
Heater Control
The CHEMTROL® Programmable Controllers incorporate automatic control of water temperature with a seven-day heater control and energy saver program.  This eliminates the need for separate control units for chemistry, pumping and heating.  It also adds additional safety protection by interconnecting the different functions.
The same program is also available on the CHEMTROL® PC4000 Filter Controller.
The Temperature readings are displayed either in degrees Celsius or Fahrenheit and used to control the heater.
The HEATER MENU is used to set the heater control to Manual or Automatic using a programmable seven-day schedule with separate daily ON and OFF times. The energy saver program is used to lower the water temperature during hours when the facility is not in use.
The Energy Saver Program is designed to save heating costs when the pool is not being used, such as a night or on weekends.  Individual ON and OFF times can be set for every day of the week, with an adjustable low temperature setting.  This can result in substantial savings on heating costs.
Another desirable feature of the Heater Program is the "Fireman" heater protection program that allows time for cooling off of the heater before the main recirculation is shut off.  This prevents overheating of the pipes and damage to the heater. It is set through the PUMP MENU.