CT110 COOLING TOWER CONTROLLER
Product Details
Specifications
Installation
Operation
Web Access
A Sophisticated Controller 
CHEMTROL® CT110 controller is an easy-to-use but sophisticated programmable controller designed for control of conductivity (Total Dissolved Solids) and programmable addition of chemical additives – such as inhibitors, biocides, dispersants, etc. pH control with display of the Langelier Saturation Index (LSI) is recommended as an option. Applications include cooling towers, boilers, and other industrial water applications.
It is easy to install and operate. All menus are displayed on the LCD graphic display screen. Entries are easily made with the 5 keys conveniently located on the front panel. Each unit is supplied with a comprehensive instruction manual with schematics of installation and menu flow charts.
---
Standard Features 
Large 8-line LCD display
Conductivity control
3 chemical feed programs
Makeup and bleed water-meter input
Langelier saturation index
Automatic data logging
---
Options
ORP CONTROL of sanitizer and/or oxidizer activity
pH monitoring with automatic acid or base control
PPM CONTROL: Free Chlorine/Bromine sensor with direct reading in PPM or mg/l
CHEMTROL® web-server communication – remote monitoring and control. True duplex remote operation with Ethernet cable.
Modbus-protocol communication for Building Management System (BMS)
CT110 Specifications 
Large 8-line LCD display for easy monitoring and operation
Conductivity or TDS control with choice of bleed programs
Temperature monitoring.
Automatic calculation of the Langelier Saturation Index (LSI) for water balance.
Five separate feed programs for up to three (3) chemical additives such as inhibitors, biocides, dispersants, etc

  Manual
  Cycle Timer
  Auto bleed-and-feed
  Auto bleed-then-feed
  Percent of flow
  Daily schedule
  Two week schedule

 "Booster" chemical feed program to schedule a delayed one-time feed event
  Low chemical level alarm (based on accumulated run time of  feed outlet)
  Makeup and bleed water-meter input
  Dynamic probe testing with sensor failure warning
  Differential signal amplification for added stability
  Choice of 1, 2 or 3-point calibration for all sensors
  Automatic data logging
CT110 Installation 
Installation of the CHEMTROL® CT110 controller is quite simple, as shown on the schematics below. To further facilitate installation, every controller comes with a detailed instruction and operation manual.
To assure proper water sampling and sensor performance, it is highly recommended to install the CHEMTROL® CT110 with a Bypass line assembly manifold.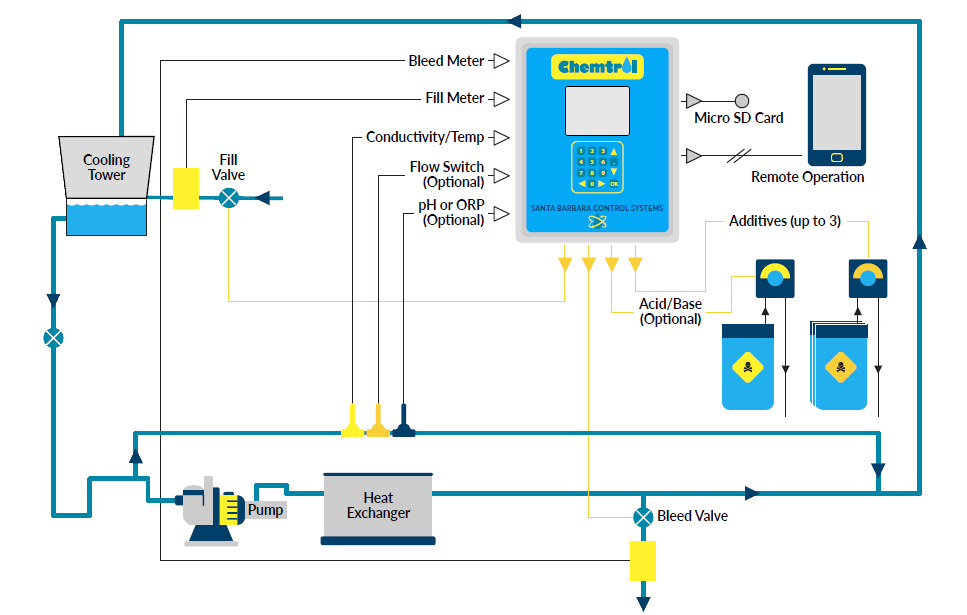 CT110 Operation 
The CHEMTROL® CT110 controller operates like a computer with an LCD screen display and direct access to all menus and submenus. The front panel keypad is used to move up and down each menu and enter or exit the submenus. All operating functions can be easily modified from the keypad, including sensor calibration, control setpoints, alarm levels and the different feed programs.
---
Remote Monitoring & Control
Our range of programmable controllers all have remote access capability, so you can control and monitor your facility 24/7.
With the remote operation function any number of facilities can be controlled and monitored from your computer, or via our mobile App. From a computer simply login directly via your browser using our web-server where the controller display is mirrored on your computer.
True duplex operation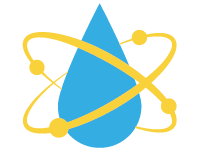 that allows real-time control and troubleshooting of all operating functions, including status reports, trend graphs and automatic alerts by email or text messages. You can also access and control your controller via our dedicated app, available for Android and Apple devices.
In terms of connecting your controller, this can be achieved via a wired Ethernet cable, WIFI signal, or by using a wireless connection with a compatible 4G or 5G router.
Find out more: web-access options.