PC4000 Filter Controller
Product Details
Specifications
Installation
Operation
Web Access
PC4000 FILTER CONTROLLER
CHEMTROL® PC4000 Controller is a filter control system that offers automatic pump and filter control with a choice of automatic backwash programs and full remote access by computer with true duplex operation. It introduces a new standard of sophistication in automated water treatment for many applications such as swimming pools, spas, cooling towers and industrial water treatment.
The filter controller can be interface with all CHEMTROL® PC Chemistry Controllers to create a completely integrated water management system.
---
ADVANCED FEATURES
Programmable RECIRCULATION PUMP CONTROL
FLOW MONITORING and TOTALING with safety alarm,
INFLUENT/EFFLUENT PRESSURE monitoring with safety alarms,
INTERLOCK with CHEMISTRY CONTROLLER,
WASTE PIT and SURGE PIT ALARMS,
AUTOMATED BACKWASH for single or multiple filters,
Works with PNEUMATIC, HYDRAULIC or ELECTRIC valves,
EIGHT (8) BACKWASH PROGRAMS,
PRIORITY VALVE program,
AUTOMATIC DATA LOGGING for up to 999 tests,
HEATER CONTROL with fireman safety and energy saver program,
WATER LEVEL CONTROL with electronic sensor and fill valve control,
REMOTE COMPUTER OPERATION and GRAPHIC DATA DISPLAY,
PC4000 SPECIFICATIONS
SCREEN DISPLAY
8 lines @ 22 characters
TEMPERATURE READOUT
-18 to 60C
SENSOR CALIBRATION
1, 2 or 3 points
CONTROL MODE
Off, Manual, Auto, Timer, Schedule
BACKWASH PROGRAMS
7-day Timer
Pressure Differential
Time or Pressure
Time and Pressure
ALARMS
Visual and audio alarms
DATA LOGGING
On-board memory for up to 999 tests
REMOTE OPERATION
Web Access with CHEMCOM® software and graphic data display
ELECTRICAL
10 A / 230V with selector switch All output relays 5A
WARRANTY
5 year on electronics,
1 year on sensors
MECHANICAL
NEMA 4X fiberglass cabinet 34 x 29 x 17 cm
SHIPPING
Controller 60 x 45 x 45 cm, 18 kg
Water Level 180 x 30 x 30 cm, 25 kg
---
OPTIONS
OPTION LEVEL4: Water level control with electronic sensor and fill valve control.
OPTION ETHCOM4: Full duplex remote computer operation with ethernet / Web-access communications.
OPTION MULTI4: Multiplex communication for remote/direct operation through host controller.
OPTION MODBUS4: Modbus-protocol communication for Building Management Systems
PC4000 INSTALLATION
Installation of the CHEMTROL® PC4000 Automatic Filter Backwash controller is quite simple, as shown on the schematics below.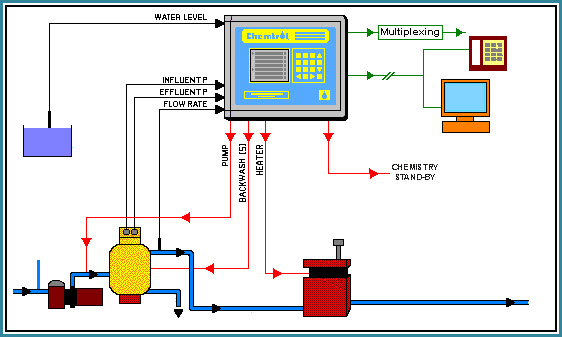 PC4000 OPERATION
The CHEMTROL® PC4000 is a sophisticated controller that incorporates automated control of filtration with choice of backwash programs for single or multiple filters.
The FILTER MENU is used to program the backwash schedule based on time cycle or on pressure differential. Multiple filters are backwashed in sequence with adjustable backwash and advance time for each filter.
The menu selections include:
Backwash Mode: Manual and Automatic
Backwash Start Date
Backwash Start Time
Backwash Duration per filter
Advance Time between filters
Number of filters
Limit Timer for backwash operation
Pump override option if pump is not turned on.
---
Remote Monitoring & Control
Our range of programmable controllers all have remote access capability, so you can control and monitor your facility 24/7.
With the remote operation function any number of facilities can be controlled and monitored from your computer, or via our mobile App. From a computer simply login directly via your browser using our web-server where the controller display is mirrored on your computer.
True duplex operation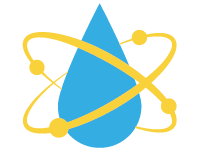 that allows real-time control and troubleshooting of all operating functions, including status reports, trend graphs and automatic alerts by email or text messages. You can also access and control your controller via our dedicated app, available for Android and Apple devices.
In terms of connecting your controller, this can be achieved via a wired Ethernet cable, WIFI signal, or by using a wireless connection with a compatible 4G or 5G router.
Find out more: web-access options.